Company Logo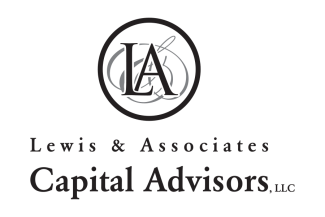 Email
slewis@lacapitaladvisors.com
Disclaimer
Investment advisory services are offered through Lewis and Associates Capital Advisors, LLC, a Registered Investment Advisor.  
The content of this website is provided for informational purposes only and is not a solicitation or recommendation of any investment strategy. Investments and/or investment strategies involve risk including the possible loss of principal. There is no assurance that any investment strategy will achieve its objectives.
Fiduciary duty extends solely to investment advisory advice and does not extend to other activities such as insurance or broker dealer services.  Advisory clients are charged a monthly fee for assets under management while insurance products pay a commission, which may result in a conflict of interest regarding compensation.
348 Raleigh Street, Suite B
Holly Springs, NC 27540
United States
Company Description
We are dedicated to providing investment management and strategic wealth planning that is right for you. Simply put, we strive to be our client's trusted advisor.